Celebrity info
Chef Jim Smith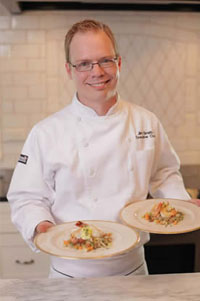 Jim Smith is the Executive Chef at the Alabama Governor's Mansion. As chef, he has placed an emphasis on using the best local ingredients and has made strides to encourage support of local farmers and Alabama fishermen.
Smith graduated culinary school at the top of his class, from Johnson and Wales University in Charlotte, North Carolina. He has studied food, wine, and service under the acclaimed chefs, Chris Hastings and Frank Stitt. He was also the wine director for the "Best of Birmingham" James Beard Dinner.
Chef Smith was the winner of the 2011 Great American Seafood Cook-off. This event pits chefs from every state in the most acclaimed seafood cook-off in the country. As winner of this prestigious event Smith travelled across the country as the national representative for American sustainable seafood, Gulf seafood and Alabama seafood.
Tom Banks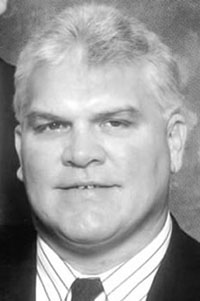 Tom Banks is a former Center for the Auburn Tigers and played 10 seasons in the NFL for the St. Louis Cardinals and was selected to 4 Pro Bowls. You can also catch him regularly on WNSP Radio as a staple on the GUMBO EXPRESS with Lee Shirvanian and Bob!
Bob Baumhower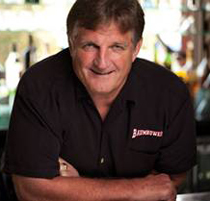 Self-proclaimed "Head Fry Cook," Bob Baumhower is the chief executive officer of Aloha Hospitality, the operating company for Baumhower's Restaurant, The Compleat Angler Seafood Grille & Bar, Bimini Bob's in Orange Beach and Victory Grille in Tuscaloosa and Auburn. With these four unique restaurant concepts, Baumhower owns and operates 12 restaurants across the state of Alabama. Previously, Baumhower played in the National Football League for the Miami Dolphins and the University of Alabama. He is a five-time Pro Bowler with the Miami Dolphins, member of the Miami Dolphins' Ring of Honor and two-time All-American at the University of Alabama. His experience on the playing field have inspired Baumhower's restaurants and provided the discipline and dedication to deliver the finest food and dining experience around..
Brody Olive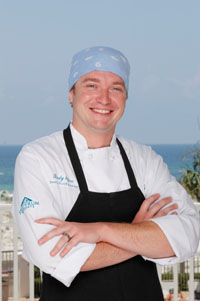 Brody Olive, one of the Alabama Gulf Coast's premier culinary leaders was named Executive Chef and Food and Beverage Director for The Beach Club. Chef Olive will oversees the Beach Club's extensive food and beverage operations, which include two restaurants, a creamery, pool side grills and more.
Born in Birmingham, Alabama, and raised just south of Atlanta, Georgia, Chef Olive attended Johnson and Wales University, where he learned the culinary fundamentals. He began his career at Ocean Restaurant in Birmingham as the Sous Chef, learning under the owner and well known Chef George Reis. Ocean achieved many honors during Brody's tenure including the AAA Four Diamond Award, Five Stars by Birmingham News to name a few. Brody then assisted with the opening of Ocean's sister restaurant, "26," known for its funky South Beach atmosphere and eclectic menu.
Prior to joining the Beach Club, Chef Olive had built a great reputation for his development of creating offerings at some of the premier restaurant venues in the Orange Beach and Gulf Shores area. He won the Southern Breeze Gulf Coast Cook Off in 2008 and Zatarain's Annual National Shrimp Festival chef challenge in 2009. Brody also won the Wine Spectator Award in 2009, 2010 and 2011.
Martie Duncan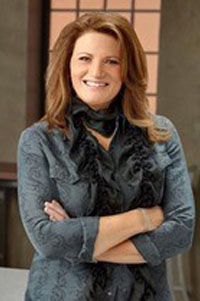 Representing the great state of Alabama and home cooks everywhere, Martie competed on Alton Brown's team for her own Food Network show. Martie was the only member of the cast who has never been to culinary school or worked in the food industry. Martie made it to the final four and America voted for the winner after the July 15th episode. While more votes came from Alabama than any other state, Martie's teammate Justin Warner was declared the winner during the season finale on July 22, 2012. Martie was the runner-up.
Martie has helped plan everything from celebrity weddings to casual tailgates, big charity events and small backyard picnics. While traveling the world, she's helped throw great parties in just about every corner of the globe.
Her experience in the media includes The Oprah Winfrey Show and she's been interviewed on a variety of planning and industry topics by the New York Times, Chicago Tribune In Style Weddings, Smart Money, Wall Street Journal, Oakland Press, Brides, Manhattan Bride, The Birmingham News, Marie Claire along with other national and local publications. She has appeared in party planning and wedding trend segments on local television morning shows for Better TV, Daytime, ABC, CBS and NBC affiliates in Dallas, Chicago, St. Louis, Birmingham, Nashville, Memphis, Jackson, and Chattanooga.
Martie has learned to stretch her party budget by using what's easily available, items she can reuse, borrow, rent, or make to create a great party atmosphere. According to Martie, a great party isn't measured by the money spent--what makes a party memorable is the fun. In 2008, Microsoft named Martie their go-to party and entertaining expert for MSN Lifestyle where her slideshows and articles helped viewers throw a party with ease. Now, her ideas for fabulous entertaining at home can be found on MyRecipes.com! View Martie's videos and slideshows of unique parties created using kitchen-tested recipes from Southern Living, Sunset, Costal Living, Cooking Light, Real Simple, and many more of your favorite magazines.
Martie is currently at work on her first book and regularly makes appearances on the food show circuit where she conducts workshops on affordable entertaining and easy recipes.
John Folse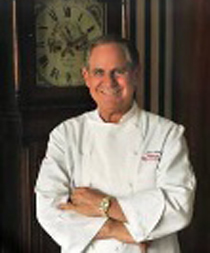 Chef John Folse is the owner and executive chef of his Louisiana-based corporations including Chef John Folse & Company Manufacturing, White Oak Plantation and Chef John Folse & Company Publishing. He is managing partner with Chef Rick Tramonto of Restaurant Revolution in New Orleans' historic French Quarter. Chef Folse is the author of numerous cookbooks, hosts a nationally syndicated PBS cooking show, A Taste of Louisiana, and a radio food and culture talk show, Stirrin' It Up with Chef John Folse. Finally, the Chef John Folse Culinary Institute at Nicholls State University is named in his honor.
Robert Brazile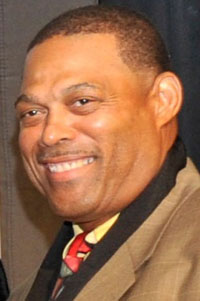 Brazile was a first round pick by the Houston Oilers in 1975, with the sixth selection of the NFL draft. He was rated as one of the premier collegiate defensive players in 1974 while playing linebacker at Jackson State, despite starting his collegiate career as a tight end (he switched to the linebacker position after his freshman season). In 1972 and 1973, Brazile helped lead the Jackson State Tigers to consecutive SWAC championships.
Shortly after being drafted, Oilers head coach and general manager Bum Phillips switched Houston's base defense from the 4-3 to the 3-4. Brazile is cited by many to be the most important player in making the 3-4 popular because of his ability to rush the quarterback from the outside linebacker position.
He was named the NFL Defensive Rookie of the Year in 1975 and made the Pro Bowl in each of his first seven seasons. He was a key member of the Oilers teams that made back-to-back appearances in the AFC Championship game (1978 and 1979). Brazile was selected as a member of the 1970's NFL All-Decade team.
During his career with the Oilers he was a seven time Pro Bowl selection (1976-82), a five time first team All-Pro selection (1976-80), a second team All-Pro selection (1981) and a five time All-AFC selection (1976, 1978-80, 1982).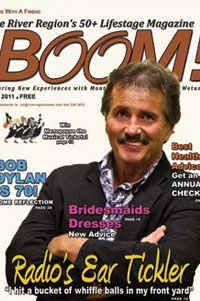 Greg Budell - TBD
Disk Jockey, host of Happy Hour with Greg Budell
Greg Budell began his career at WLS in Chicago before becoming the personal promotions coordinator for the rock group Styx. In 1979, Budell began a 25-year career as a morning disc jockey in Miami, working at WAXY, WIOD, and WLVE "Love 94?, among others.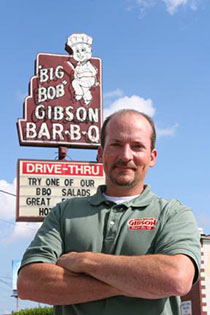 Chris Lilly - TBD
Chef Chris Lilly is one of America's best-known barbecue pitmasters. Lilly emerged on the barbecue scene in 1992 when he began working for the world-famous Big Bob Gibson Bar-B-Q restaurant in Decatur, AL. Lilly is also head chef of the award-winning Big Bob Gibson Bar-B-Q Competition Cooking Team, and the winner of 10 World BBQ Championships, including three Memphis in May Grand Championships and eight state barbecue grand championships across the Southeast. Lilly has served as a guest chef at the James Beard Foundation and the American Institute of Wine and Food, was a presenter at the Low-Country and Caribbean Food Conference at Johnson and Wales University, and recognized as a Celebrated Chef by the National Pork Board.
NATIONAL ACCOLADES: Memphis in May World Champion 1997, 1999-2001, 2003, 2004; National Barbecue Association's "Book of the Year" Big Bob Gibson's BBQ Book 2009
BOOKS: Big Bob Gibson's BBQ Book: Recipes and Secrets from a Legendary Barbecue Joint (Clarkson Potter 2009); Fire & Smoke: A Pitmaster's Secrets (Clarkson Potter May 2014)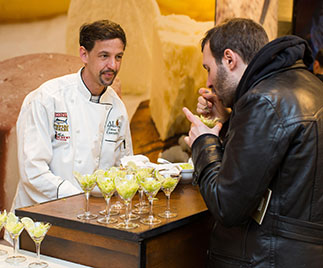 Chef Steve Zucker
started over 10 years ago while Steve was a Chef for John Folse in Louisiana. Chef Zucker joined the Aloha team to re-open Mango's in Orange Beach after Hurricane Ivan. Chef Zucker received his Associate degree in Culinary Arts from Delgado in New Orleans and his Bachelor degree in the Culinary Arts from Johnson & Wales in Providence. He has been a certified sommelier since 1997 and has been featured in numerous magazines during his career. Named one of the "Ten Chefs to Watch" by Esquire, one of two "Great Young Chefs" from Southern Living, "Louisiana Chef to Watch" from Louisiana Cooking and one of "Three Top Chefs in Las Vegas" by VIP magazine to name a few. Chef Zucker opened and operated fine dinning restaurants such as, Voo Doo Café in Las Vegas, ($11 million annual sales) and "5 bean" award winning Lafitte's Landing at Bittersweet Plantation in Louisiana. In January 2002 Chef Zucker was invited to cook at the prestigious James Beard House. In 2009 received Manager of the Year award from the Mobile Restaurant Association. In 2010 nominated for Chef of the Year for the Alabama Restaurant Association. Before joining Aloha, he had been a chef in Kapalua on the island of Maui in Hawaii. His love of Creole and Island cuisine is a perfect match for our concept.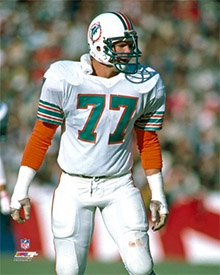 A.J. Duhe
A Louisiana native, A.J. grew up playing all sports, but especially loving football. He earned a scholarship to LSU, his childhood favorite team, where he started as a freshman and excelled all four years. At the Senior Bowl in Mobile, he and Bob Baumhower were fortunate enough to have legendary coach Don Shula as their coach, who later drafted them to play for him with the Miami Dolphins. As a first-round draft choice in 1977, A.J. went on to become the AFC Rookie of the Year, and earned countless awards throughout his eight year career. After a very successful career with the Dolphins, he was honored to be inducted into the Louisiana Hall of Fame. Most recently, A.J. was inducted into the Miami Dolphins Walk of Fame, an honor reserved for very few players.
Since retiring from football in 1985, A.J. has enjoyed working in the casino industry for over 25 years, having worked for Caesars Entertainment for the last ten years. He and his wife Frances have been married for 34 years, and have three grown children. A.J. remains active with the Miami Dolphins, currently serving on their alumni board.
Andrew Zow
Tyrone Prothro